Founded in 1980, the Virginia Film Office was started with the goal of bringing revenue into the state of Virginia through the film industry. They work with decision-makers involved in all medians; including films, television, documentaries, and commercials. Focused on increasing the film industries' presence in Virginia, the Virginia Film Office also works to help stimulate the economy through bringing in new business. They market to potential filmmakers by showing them the advantages Virginia has to offer their production; including a variety of different filming landscapes, numerous historical locations, and unlimited resources. Whatever stage a production is in or whatever they need the film office is there to help.
How can the Virginia Film Office position Virginia as a premium filming destination and attract productions to film in the state?
To achieve film industry growth in Virginia I first had to gain a better understanding of the film office's work and the film industry as a whole. I began by creating three research objectives to answer: what is unique about the Virginia film industry and how does that make it a premium destination, who in the industry are we trying to attract, Where is the industry changing and what is the room for growth? To find these answers I conducted secondary research involving, a brand audit of the film office, a competitive analysis, I looked at the financial incentives and trends of the film markets for each state, deep dive of the film and entertainment industry and looked at filmmakers and the industry trend for them. Along with my secondary research, I developed a survey and conducted over twenty hours of interviews with industry professionals.
Organization: Virginia has a strong film community that is anchored by a film office that is a resource to all.
​
Competition: There is a lack of uniqueness amongst film offices as most states promote their financial and geographical incentives to sell their state.
​
Audience: Young creators are key to the industry and Virginia has a creative and collaborative environment to help the industry grow from within.
​
Culture: Technology has transformed the entertainment industry and changed the way and type of media that is made and consumed.
Category: Entertainment is a diverse, rapidly changing industry. It's not enough to focus on film but instead, embrace all forms of entertainment.
Brand Refresh & Packaging
Knowing that people deal with many stresses we decided to create a Hug In A Mug line of products that would help the consumer relieve their daily stress. We choose some of the most stressful topics that people encounter and created packaging relating to that problem.
Along with the package redesign, we created convenient travel packets to take the hot chocolate on the go with you. On these packets, we put some of the common stresses that people deal with, so when people are feeling the stress listed they know that they can turn to the drink to cheer them up.
We felt that just rebranding them wasn't enough so we introduced a new product line for them. We created mug cakes because we found that the number of people baking was on the rise, and with mug cakes, it can be a nice personal indulgence to enjoy when you don't want a warm beverage.
To help promote the Swiss Miss brand as a feel-good treat we have introduced a line of Swiss Miss greeting cards. These cards include a heartfelt message on the outside and on the inside includes an uplifting fact and a packet of Swiss Miss.
The world and new can be stressful and sometimes people just want a little positivity in their life. We created the "Nice News Reports", which are short little positive facts that can make a person feel good. These would be used to promote Swiss Miss's positive brand and would be played before Youtube videos and during new segments.
With the news surrounding us with negativity, we decided that it is important to try and find the good in it all. We created a mug that when hot water is added the message on the mug gets spun and the true positive message is shown. We would send these mugs to popular figureheads who have gone through tough times to see that everything will be ok. We would also send these to late-night talk show hosts and sponsor a segment where they talk about the daily news but put a positive spin on it to spread joy and happiness to people.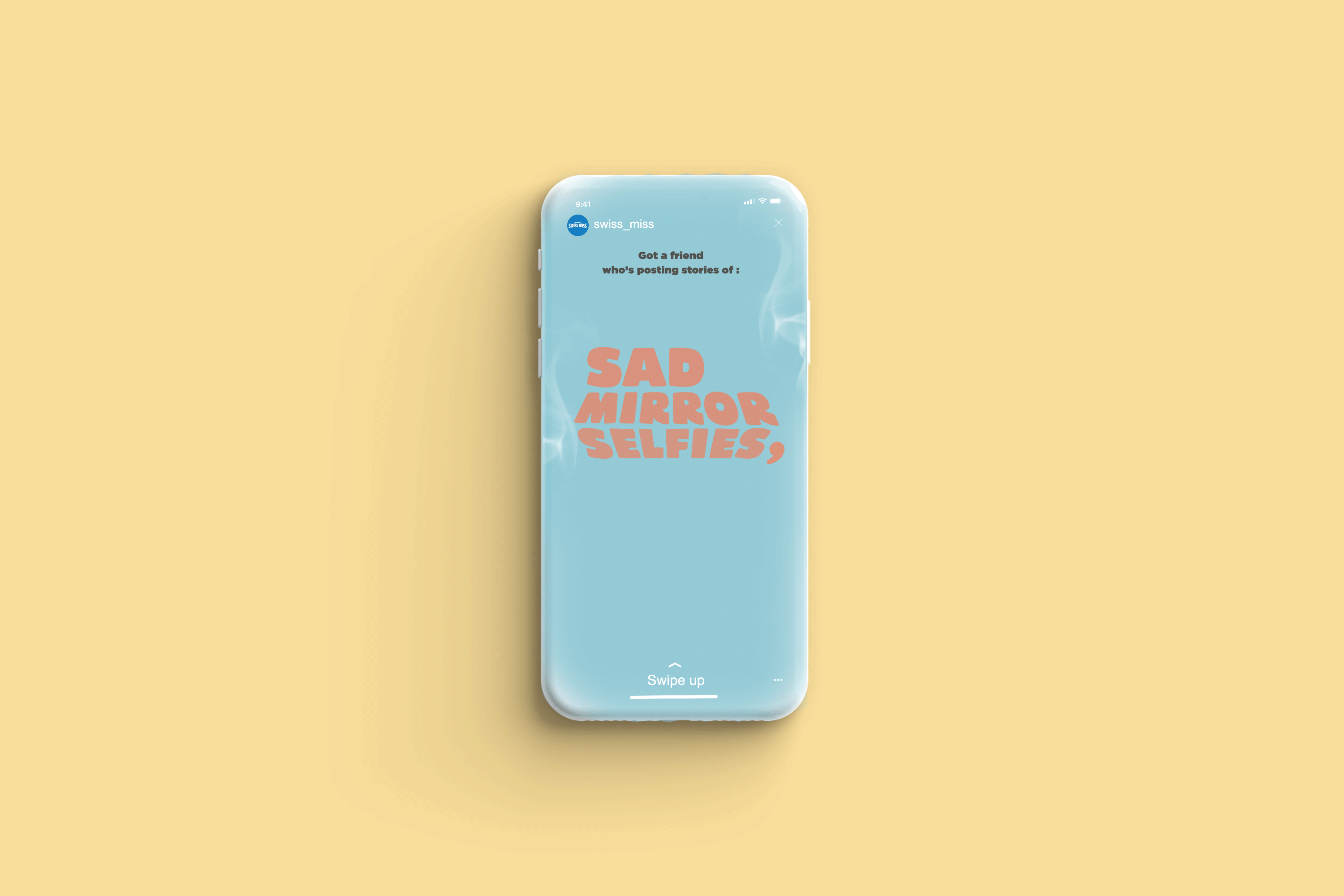 When people are feeling sad they tend to turn to social media to post about their feelings. We wanted to help people cheer up their friends and spread joy on the internet. Swiss Miss will have sponsored Instagram stories with digital coupons on it that people can share with their sad friends.
With all the negativity on the internet, we wanted to create a way where anyone who is opening a new tab on the internet can get a positive message to make them happy and cancel out some of the negativity online. We created a Google Chrome extension that would have an uplifting fact appear whenever a new tab is opened.
Age: 20-35 years old.
​
Experience: People who are just starting in the industry and have little to no experience.
​
Budget: Productions that spend under $250,000 and are not eligible for tax incentives.
​
Attitude: They have a passion for storytelling and are interested in telling their story however they can.
​
Network: They are new to the industry and limited network of people they know.
​
Education: Took classes in production, storytelling, or other forms of entertainment.
​
Location: They live in Virginia and more specifically reside in Richmond.
Make the Virginia Film Office a resource for all content creators and create a campaign that shows how they can help.
Reposition the Virginia Film Office to expand its operations and solidify its future?
The Virginia Film Office is a pioneer in the entertainment field that all content creators can turn to for guidance.
Aid a new generation of storytellers in all forms of entertainment by showcasing the film offices' technological prowess.
Strategic Recommendations
dksjfaklsdjfklsdjfl;kdsjf