Swiss Miss is an American food company that has been around since 1961. They offer a variety of different products but are most well known for their many different hot chocolate products. In their products, Swiss Miss uses real locally sourced dairy to help create an authentic taste while requiring people to only need to add water to their products. The goal of Swiss Miss is to bring joy to their customers and remind them of good memories and when they were young.
Bring new life to a mature consumer brand.
In order to bring new life to Swiss Miss, we first started by researching all about the company, the products, and brand design history and the consumer of Swiss Miss. We also visited grocery stores to see their positioning in stores and how they stood out from their competitors. In addition to looking at the brand, my team and I researched the cocoa industry, the hot chocolate market as a whole, the competitors of Swiss Miss, the competitive landscape and industry life cycle of the cocoa and chocolate beverage industry, the economy's impact on cocoa, and the health concerns of cocoa.
Although Swiss Miss is a category leader and a staple in pantries it is only seen as wintertime treat and is missing out on sales during the rest of the year.
Swiss Miss is a wholesome treat that has been enjoyed by families for generations and brings back nostalgic memories, however, as people get older they tend to see Swiss Miss as only a sugary drink for children.
The amount of stress people deal with on a daily basis has gone up, between things such as work, school, money, and relationship. So more people are turning to things that calm them down and bring them joy such as sugary treats.
25-34 year olds who had Swiss Miss as a child
​
Enjoys indulging in sweet treats and gives into cravings
​
Growing into the largest buying power
​
The most stressed-out generation
Position Swiss Miss as more than just a wintertime treat, by associating it as a pick-me-up that adults can turn to for relaxation for when the day gets tough. We achieved this through the creation of a campaign that we call Hug In A Mug.
When the grinding hustle starts to feel more like the struggle, Swiss Miss is the comforting sip of relief you deserve.
Brand Refresh & Packaging
Knowing that people deal with many stresses we decided to create a Hug In A Mug line of products that would help the consumer relieve their daily stress. We choose some of the most stressful topics that people encounter and created packaging relating to that problem.
Along with the package redesign, we created convenient travel packets to take the hot chocolate on the go with you. On these packets, we put some of the common stresses that people deal with, so when people are feeling the stress listed they know that they can turn to the drink to cheer them up.
We felt that just rebranding them wasn't enough so we introduced a new product line for them. We created mug cakes because we found that the number of people baking was on the rise, and with mug cakes, it can be a nice personal indulgence to enjoy when you don't want a warm beverage.
To help promote the Swiss Miss brand as a feel-good treat we have introduced a line of Swiss Miss greeting cards. These cards include a heartfelt message on the outside and on the inside includes an uplifting fact and a packet of Swiss Miss.
The world and new can be stressful and sometimes people just want a little positivity in their life. We created the "Nice News Reports", which are short little positive facts that can make a person feel good. These would be used to promote Swiss Miss's positive brand and would be played before Youtube videos and during new segments.
With the news surrounding us with negativity, we decided that it is important to try and find the good in it all. We created a mug that when hot water is added the message on the mug gets spun and the true positive message is shown. We would send these mugs to popular figureheads who have gone through tough times to see that everything will be ok. We would also send these to late-night talk show hosts and sponsor a segment where they talk about the daily news but put a positive spin on it to spread joy and happiness to people.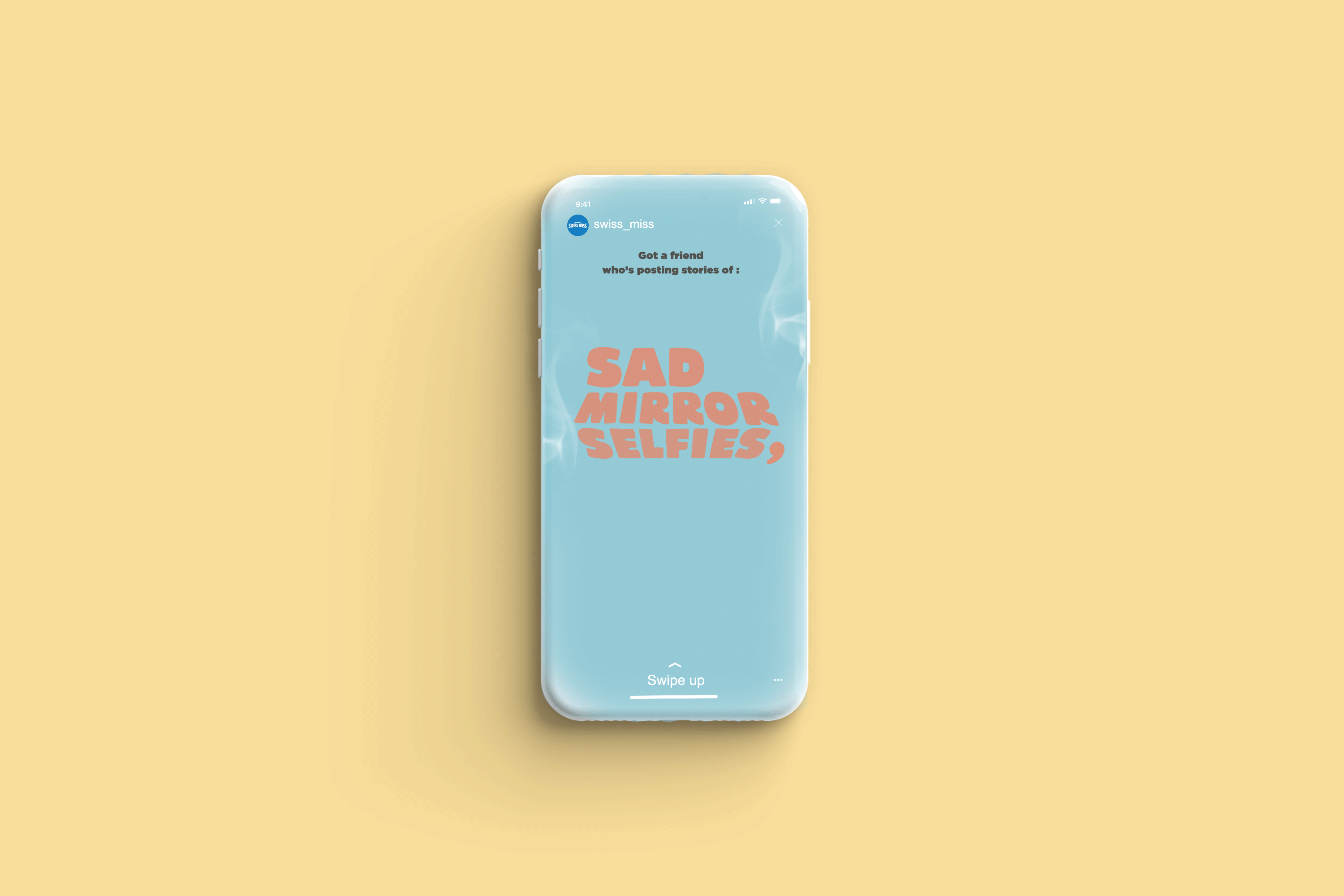 When people are feeling sad they tend to turn to social media to post about their feelings. We wanted to help people cheer up their friends and spread joy on the internet. Swiss Miss will have sponsored Instagram stories with digital coupons on it that people can share with their sad friends.
With all the negativity on the internet, we wanted to create a way where anyone who is opening a new tab on the internet can get a positive message to make them happy and cancel out some of the negativity online. We created a Google Chrome extension that would have an uplifting fact appear whenever a new tab is opened.
Brand audit
​
Target persona
​
Brand briefing
​
Strategy and positioning creation
​
Strategic recommendations
​
Project management and oversight